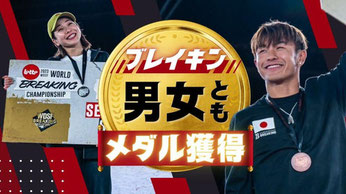 I am Yoshida, president of Yamada Shusei Ltd., a professional apparel garment repair group in Nagaoka City, Niigata Prefecture.
In 2023, the World Ball Classic , basketball, rugby, volleyball, and various other sports tournaments are all set to take place, and with the success of the Japanese teams, we can expect a great deal of excitement.
Under such circumstances, competitions that I was not familiar with before are now being introduced.
Breakdancing is one of them, in which dancers improvise to music played by a DJ and compete against each other in a one-on-one competition.
The World Championships were held in Leuven, Belgium, on September 24, and Ayumi Fukushima (AYUMI) won the silver medal for the women and Shigeyuki Nakarai (SHIGEKIX) won the bronze medal for the men.
Shigeyuki Nakarai, aka "SHIGEKIX," Japan's ace and ranked No. 2 in the world, was naturally aiming for the championship, but perhaps because he was conscious of his semifinal opponent, his dance was smaller than usual, and he lost by a narrow margin.
 In a sports news commentary on the event, the following comment was made, which made me think, "I see".
The performance of "SHIGEKIX" was like a precise "machine," for better or worse. The more serious the competition becomes, the more important it is to go back to the starting point. The starting point is to enjoy dancing.
 Performance = What do you do? ✖What feeling do you have?
 I reconfirmed that the victory or defeat of high performers depends on the invisible mental part as the visible skill part becomes more and more close.