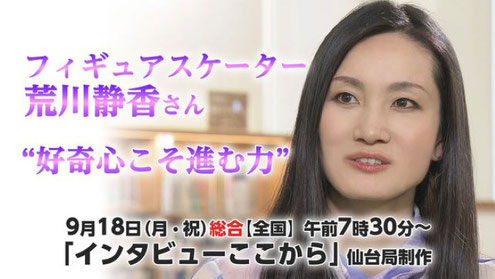 I am Yoshida, president of Yamada Shusei Ltd., a professional apparel garment repair group in Nagaoka City, Niigata Prefecture.
On September 18, I watched the morning NHK TV program "Interview Here" featuring Shizuka Arakawa, a gold medalist at the 2006 Torino Olympics, and was very impressed by her talk about "the driving force in her life.
Shizuka Arakawa has been involved in the same sport for 36 years since she first encountered figure skating at the age of 5 in Sendai, Japan.
I was impressed by the following three points.
For one thing, she said that of all the different things she had learned, skating was the most difficult because it was the one that kept her going. There were so many different types of jumps that there was no shortage of challenges, and it was also difficult to give 100% in any one thing. She was never satisfied with herself.
I was also impressed by her answer to the question, "What was your most difficult period?" was also impressive.
In March 2004, at the same time as graduating from Waseda University, Shizuka Arakawa won the World Championships in Dortmund with a triple-triple jump combination, scoring a perfect 6.0 technical point to become the third Japanese world champion.With the Turin Olympics coming up in two years, she entered the following season with an ambiguous decision on her career path.
Naturally, her hesitancy affected his performance, and at the World Championships the following year, she fell to ninth place overall.
In the end, she recovered and won a gold medal at the 2006 Torino Olympics, but looking back on the situation at the time, she said, "The hardest thing for me was to lose sight of my goals. And  this experience taught me the importance of having a personal goal, which is to perform my best without regrets.
It was also impressive that Arakawa, who is now a mother of two children, frankly talked about the gap between "the hectic daily life of raising children" and "the self who wears gorgeous costumes and smiles at the ice show. I was moved to hear her say, "I never maintain the status quo, but always rebuild my performance from scratch to fit my ever-changing physical strength and abilities in my 20s, 30s, 40s, and so on.
Incidentally, as for "Ina Bauer," which has become synonymous with her, the current theme is "How long are you going to do it? is her current theme.
It is rare for a person over 40 years of age to remain active, and she has begun to think about what she can leave behind for the next generation.
I watched the program casually, but it gave me motivation and energy from this morning.