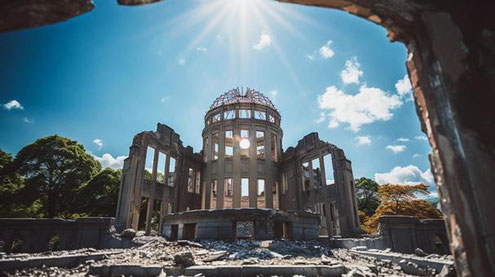 I am Yoshida, president of Yamada Shusei Ltd., a professional apparel garment repair group in Nagaoka City, Niigata Prefecture.
For Japanese people, the month of August is like a starting point to stop and think about peace.
 In August, there are anniversaries that remind us of the tragedy of war and the preciousness of peace, such as the day the atomic bombs were dropped on the cities of Hiroshima and Nagasaki, and the day Japan surrendered in World War II.
On these anniversaries, many people mourn the war dead and pray for the abolition of nuclear weapons and the realization of lasting peace. In addition, peace education and peace activities are held at schools and in society to pass on the message of peace to the next generation through learning about the history of war and the experiences of A-bomb survivors. This is also an aspect of the fight not to let the war fade away.
For managers, the origin refers to the thoughts, objectives, philosophy, and vision they had when they started their business. Those who are aware of their origins may consider that they have a place to turn to no matter what situation they find themselves in.
The strengths of a manager who is aware of his/her origin are as follows.
1) It can increase your motivation and passion for yourself and your business
2) It can serve as a guideline or standard for conducting business
3) It can help in developing a vision and strategy for the business
4) It is useful when communicating with people involved in the business
This is also an aspect of the battle to keep our thoughts, objectives, principles, and visions from becoming a picture of our origins. 
At this time of year, just as we stop and think about peace, we also take this opportunity to stop and think about our own business origins. How do we live in the present, the time between the past and the future?" I believe it is necessary for all managers to face this question.