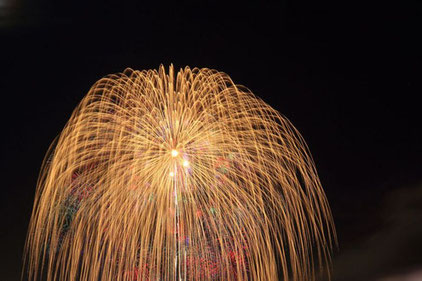 I am Yoshida, president of Yamada Shusei Ltd., a professional apparel garment repair group in Nagaoka City, Niigata Prefecture.
On August 2, I watched the Nagaoka Fireworks. It was not the first time, but every time it gives me courage and hope to live tomorrow.
One of the climaxes of the Nagaoka Fireworks is the Phoenix. The meaning behind this is the passionate desire to set off the world's most magnificent fireworks to cheer up the areas affected by the Great Chuetsu Earthquake in Niigata Prefecture. The most distinctive feature of the fireworks is that they are "music fireworks," set off to the background music of "Jupiter" sung by singer-songwriter Ayaka Hirahara. The message of the fireworks is "No matter how many times you suffer damage, you will come back to life like a phoenix," and the light trail that appears in the center of the fireworks represents a phoenix.
In reality, I take this as a message that we should continue to question the meaning of life in the finite world and never forget it, because we have experienced the pain and sorrow of losing our beloved family and friends. 
In both life and management, we are challenged to achieve our values and goals within the limited time and resources available to us. The joys and achievements we gain in the process are only possible because they are finite. As I watched the fireworks "Phoenix" praying for recovery, I vowed once again this year to cherish the present, work toward my dreams and goals, cherish the connections and love I have for others, and continue to question the meaning and value of life.
August 2, 2023 Fireworks Phoenix for reconstruction