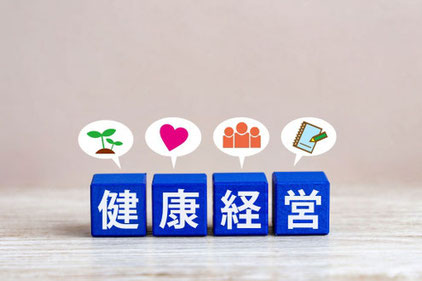 I am Yoshida, president of Yamada Shusei Ltd., a professional apparel garment repair group in Nagaoka City, Niigata Prefecture.
I go to physical therapy about once a month, and this time I had a lot of tension in my back and arms, and I was told something like this. He told me, "It is not good to have no subjective symptoms. Even if you try to do your best with your energy, your body is honest. 
I have been attracted to the keyword "health" lately, partly because I fell ill a little in July. In relation to management, the term "health management" is used. 
It means thinking about employee health management from a managerial perspective and strategically implementing it. Health management is expected to improve employee motivation and productivity, and enhance corporate performance and brand image. It is also said to have various benefits, such as reducing medical costs and gaining social recognition. 
Various methods have been introduced to promote "health management," and we intend to start where we can.
1) Establish a health management policy based on the corporate philosophy and vision, and implement it in a top-down manner.
2)Regularly monitor employees' health status and stress levels, and respond to individual needs.
3)Provide employees with opportunities for rest, exercise, and other health-building activities to increase their health literacy.
4)Participate in certification systems such as Health Management Brand and Excellent Corporation for Health Management, and promote both internally and externally.