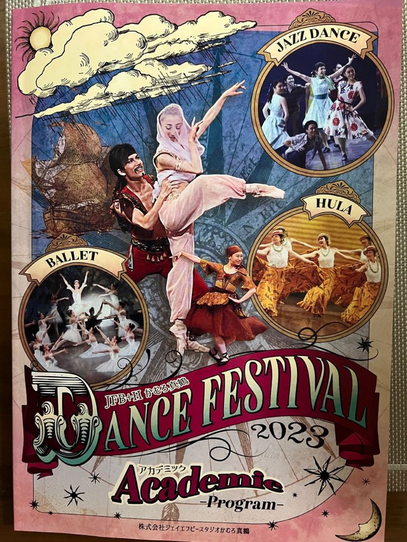 I am Yoshida, president of Yamada Shusei Ltd., a professional apparel clothing repair group in Nagaoka City, Niigata Prefecture.
On July 2 at 6:30 p.m., I watched Dance Festival 2023 organized by JFB+H Kamuro Manazuru at Koidego Cultural Hall. I saw a great stage in front of me, with many presenters of different ages and years of experience, and many spectators with different perspectives on how to enjoy the performance. I thought to myself, "Could this be what it means to put into practice the concept of "Be cheerful, have fun, and live lively! 
First of all, the content was wonderful. I was able to see solo dances and many dancers dancing in unison in various genres such as classical ballet, jazz dance, and hula. Some of the dancers did not show the results of their practice and made mistakes, but I was really impressed by their smiling faces and dedication.
I was also moved by the 10-year award given before the program started.... In fact, our eldest daughter had studied classical ballet at Kamuro Manazuru for several years more than 20 years ago, so I felt deeply that the award was also for the family's cooperation and support that helped her to continue her efforts.
Furthermore, in the greeting by the representative of "JFB+H Kamuro Manazuru" after the 10-year award, it was introduced that the baton has been passed from the leader of Kamuro Manazuru to the representative, Sen'o Shimizu, and that we are now facing a generational change. I was also impressed by the fact that each of them is doing their best in their respective positions and playing an active role. I was also happy to see some of the instructors from my eldest daughter's school days on stage.
It is wonderful to see that the "love of dance and joyful spirit" has been passed on to the entire team, despite the changing times and environment.  I thought, "This may be what it means to practice "Be cheerful, have fun, and live lively!