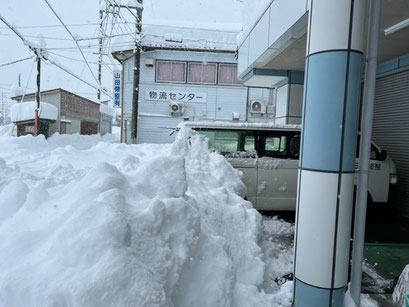 I am Yoshida, president of Yamada Shuji, a professional apparel garment repair company in Nagaoka City, Niigata Prefecture. 
 Niigata Prefecture has been in the news for its heavy snowfall, and in fact, the situation has changed drastically in the past few days. Fortunately, we have not heard of any major damage to our employees or business partners, but transportation services have been suspended and commuting has been disrupted. Convenience stores nearby are running low on goods, and just a few minutes ago, we also experienced a temporary power outage. 
 We cannot help but be acutely aware of the gratitude we feel for our daily lives and the relationships we take for granted, such as the fact that all of our employees are able to come to work safely, that the products we have completed the repair work on are safely delivered to their destinations, that the convenience stores have a wide selection of products, and that we are able to receive safety confirmation calls. 
 The situation differs from region to region in Niigata Prefecture, but we hope that the damage from the heavy snowfall will be under control as soon as possible, and we would like to report on our recent situation and express our gratitude.